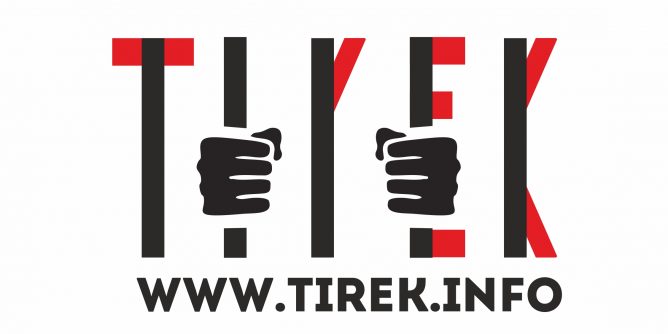 Dear people of Kazakhstan, we publish two written appeals (dated 11 May 2021 and 23 July 2021) written by political prisoner Ulasbek AKHMETOV and submitted by his attorney, member of the Almaty City Bar Association lawyer N. RAKHMANOV.


In a letter dated 23 July 2021 Ulasbek appeals to all human rights defenders and the people of Kazakhstan. Ulasbek insists on a public trial and international publicity, and is ready to testify to international organisations as a political prisoner in Kazakhstan.
Appeals by political prisoner Ulasbek AKHMETOV indicate that he does not admit guilt imposed on him by authorities.


But … in this case a reasonable question arises for the judge of the Almaly district criminal court Kairat IMANKULOV concerning the judgment No. 7511-21-00-1/379 issued by him on 7 July 2021:
On what basis is the a summary trial appointed under the main trial if Ulasbek AKHMETOV denies his guilt in writing, resents the blasphemous, shameful, hypocritical indictments … and also, expresses complete bewilderment as to the reasons for singling his case out into separate proceedings.
It turns out that Ulasbek is not even acquainted with the appointment of a summary trial under the main trial.
The Ruling of Judge IMANKULOV informs that he pleaded guilty(?!) in full. Moreover, what alleged harm are we talking about?!
A quote from Judge IMANKULOV'S judgment:
«…Taking into account that there are sufficient grounds for the appointment of a summary trial in the case, as the defendant pleads guilty in full, including the amount of harm caused by the criminal offence…».
Ulasbek Akhmetov, one of Kazakhstan's political prisoners imprisoned for more than 8 months and prosecuted for promoting democratic values such as: the rule of law, human rights, social equality. One of the main goals of democracy is to limit arbitrariness and abuses of power.
For ease of reading, Ulasbek AKHMETOV'S letters are presented in hard copy.
Photographs of the original letters are attached.
A photo of the Decision of the main trial of Judge IMANKULOV K. is also attached
LETTER dated 23 July 2021
1. To human rights organisations:
KIBHR, Ar.Rukh.Hak, 405, Open Dialogue, Qaharman, Veritas Human Rights, Elimay, Bostandyq kz, Femina Virtute, Bota Jardemalie, etc.
2) To activists, oppositionists, patriots of Kazakhstan, the media, the people of Kazakhstan, as well as all interested persons….
From Ulasbek Maratovich AKHMETOV, born on 15 April 1978,
defendant under the (Article) 405 Parts 1 and 2 of the Criminal Code of the Republic of Kazakhstan "Koshe Partiyasy"/"DCK"
Criminal case No. 217500031000417
Cell No. 85, post N11, Republican State Institution (penal colony) LA-155/18, 73 Krasnogorskaya str.
Lawyer: RAKHMANOV Nurlan
Good day, dear citizens! I wish happiness, kindness and prosperity to everyone! As you know, a pre-trial investigation into the high-profile criminal case under Article 405 Part 1 and 2 of the Criminal Code for the organization and participation in the movements of «Koshe Partiyasy» and «DCK» in Almaty has recently been completed. The result of fervent imagination and fantastic stories of the investigation were blasphemous, shameful, hypocritical accusations against activists who are true patriots of their homeland. It turns out that the dictatorial, usurper authorities have declared the movements «DCK» and «Koshe Partiyasy» allegedly extremist through the court of Yesil district of Astana. Indignation and outrage of the people of Kazakhstan, activists, patriots and even members of the European Parliament have no limits, especially as these decisions have been classified. The reaction of the people was natural, since it affects the rights and interests of millions of citizens of Kazakhstan. But now the most interesting phase of the entire criminal process begins — the main trial. Why the most interesting, because it is public. Unfortunately, all trials will be held via video conferencing, due to the COVID-19 situation.So, on 21 February 2021 the preparatory part of the main trial with the participation of U. M. AKHMETOV, i.e. me, has already taken place. For reasons unknown to me, my case was singled out in a separate criminal proceeding. Further, on 27 July 2021, at 9:30, there will be a preparatory part of the main trial with political prisoners held in custody:
Diana BAIMAGAMBETOVA, Askhat ZHEKSEBAYEV, Kairat KLYSHEV, Abai BEGIMBETOV, Noyan RAKHIMZHANOV.
As well as activists under house arrest or under the ban to leave the place of residence:
ASPANDIYAROVA D., DZHAUKEROVA G., DZHUMANIYAZOVA N., KOZIYEV Y., SMAGULOV B., ALIBEKOV A., VALIYEV D. and KURBANOVA M.
Further, on the same day, that is, on 27 July 2021, at 14:30 the main trial with my participation will be held. At this time, this is all the information I know.
In this regard, I would like to invite all interested parties to be observers and witnesses of politically motivated prosecution, which is, of course, prohibited by Article 39 Part 3 of the Constitution of the Republic of Kazakhstan. In the end I would like to quote honorable, late Altynbek SARSENBAYEV: «We should be engaged in politics. If we are not engaged in politics, then others will do that for us, and those others will not protect our rights and interests».
Let us not be apolitical! See you soon! 


AKHMETOV Ulasbek Maratovich
LETTER dated 11 May 2021
To human rights organisations:
«Open Dialogue», «Qaharman»,
«405», Aigul PAVEL, Dana ZHANAI
From AKHMETOV Ulasbek Maratovich
Investigative detainee Republican State Institution LA-155/18; cell N97, post N12
Article 405 Part 2 of the Criminal Code of the RK "Koshe Partiyasy" movement;
Criminal case No. 207500031001480.
Investigator: KAZHYBAYEV G.S.
Lawyer: RAKHMANOV N.
Good day, dear human rights defenders!
I wish you and your relatives health, success, and prosperity. I hope the epidemic and the plague of our time called COVID-19 has not touched you and your relatives. Be careful and vigilant, because your contribution on the way of democratization and the fight against the dictatorship in Kazakhstan cannot be overestimated. I sincerely admire your courage and bravery that can be seen with the naked eye. And that courage and bravery which you radiate lights up as a bright moonlighting the historical road on which people of my motherland go to their high goal. On that road, various insurmountable obstacles, set up by the dictatorial power, are encountered. As time passes, more and more true patriots of my motherland are arriving, and they are holding the banner of democracy and freedom aloft, stepping forward on that historic road. They fell victim to the obstacles put up by the current government, but the courage and tenacity of these victims inspires the rest of those going and this inspiration does not allow our banner to fall. One of these examples is the AGADIL family. These heroes did their duty, their duty to their people and their homeland. Only highly moral individuals, consciously, unselfishly sacrifice themselves for the sake of others. I am sure history will not forget anyone and anything. History shows us: only the one who walks the road can manage it, no matter how thorny and difficult it may be. Struggle of material power against ideas is useless. After all, an idea cannot be shut down, caught and imprisoned or shot. All the more so if that idea is consistent with the natural needs of the people. Historical justice exists for everyone, including our country. It will prevail the sooner human rights organisations like yours and international organisations and democracies report objectively on the political processes within the country. In this regard, the recent European Parliament Resolution is a big step forward. Do you know that I have been under arrest for seven months? Although the article that I am charged with is a minor one, I could have been under house arrest. Apparently I'm very dangerous to society…Consequently, I have very little information about the proceedings which are taking place at liberty and I ask you to provide me with some information.
1. Names of persons criminally prosecuted for political reasons by city, by article, and measures of restraint.
2. Names of those imprisoned for political reasons, by article, by city, by measure of restraint and term of imprisonment.
3. The resolution of the European Parliament, the Covenant on Civil and Political Rights.
With regard to me, I can inform you that the prosecution intends to single my case out of the general case of Almaty, that is, to separate me from the other participants of the process and to try my criminal case separately. It is very undesirable, they want to divide and rule, and this shouldn't be allowed. Also, it is necessary to assure that a legal process is open and conducted in an off-line mode. If you provide me with initials and positions of officials of democratic states, I could write letters to top leaders of countries as a prisoner about historical lawlessness that is taking place in our country. Perhaps it would help us to make this process against politically persecuted people open and give it international publicity.